From: Rob Dennis
Date:
Being an online entrepreneur isn't easy.
It takes guts.
You need to be willing to take risks.
You will feel like giving up at times when things don't work out.
Do you work from home? Then you might feel like it's so difficult trying to stick to a schedule and stay dicipline.
Having ideas is one thing, but if you don't have the proper mindset, you are doomed to fail.
That's the reality.
A strong mind will always defeat all odds.
In addition, if you don't have the proper systems and techniques to become a successful online entrepreneur, it's like driving without a map.
Ultimately, you want to become successful faster and better, right?
Listen up...
I've been an online entrepreneur for over 5 years and there have been many lessons I learned.
I'd like to share them with you in my book.
Let me introduce to you...
Online Entrepreneur Motivation:
Online Business & Motivation Tips For The Online Entrepreneur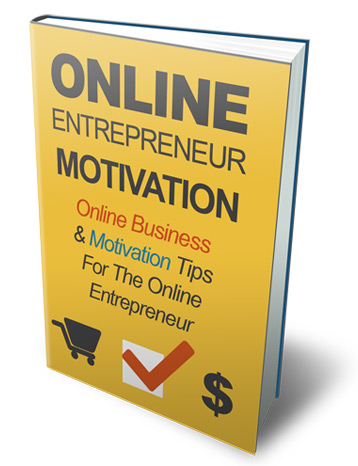 Here's what you'll discover in this guide:
Online business tips combined with motivation for the entrepreneur


3 easy ways to build a bigger downline


How to write better sales headlines


8 tips on how to get more Facebook likes to your fan page


5 productivity tips & tools to help you get more done


Productivity tips for the home-based business owner


5 tips to making the most out of Evernote


10 quick productivity hacks you don't want to miss


How to create your own mastermind group


How to get back up when you have failed


How to motivate yourself when you're in a slump


How to stop procrastinating and start doing in 3 easy steps


11 useful tips for improving your oline business


How to come up with blog post ideas quickly and easily


3 powerful ways to build an email list faster


3 quick tips to making the most out of Facebook Ads


7 ways to build your brand on social media sites


10 SEO tips to get your pages ranked on top of the search engine


How to setup a Wordpress.com Blog


How to write killer blog posts that gains lots of engagement


Top 5 ways to generate more visitors to your website


...and much, much more!
How Can I Use This Powerful Guide Right Now?
You can own Online Entrepreneur Motivation today for a mere $6.99.
That is a truly incredible value, especially considering the significant difference it'll make to your success.

Did I mention this eBook is only $6.99? It's definitely a point worth repeating. You will be hard-pressed to find a more valuable resource.
Your purchase is absolutely risk free. Try the product for 30 days, and if you're not satisfied just send me an email and I'll send you a refund right away. So there's absolutely no risk on your part. All the risk is on me.
I'm delighted to have the chance to share this powerful guide with you, and I know you'll be very happy with the results.

Again, you will receive the comprehensive and valuable insights you need to become successful for only $6.99.

Please click the Add To Cart button right now and take ownership of this valuable eBook TODAY!
Get Instant Access Right Now!
Yes! I want instant access to
Online Entrepreneur Motivation
Regular Price: $26.99
Today Only: $6.99!
To Your Success,
Rob Dennis
robdennisonline.com